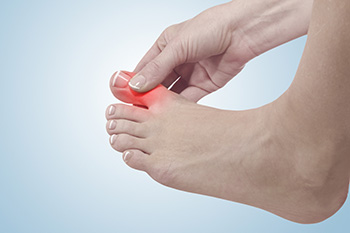 The cartilage in a joint can become damaged and worn down from the condition known as osteoarthritis (OA). This can expose bones in the damaged joint and cause them to rub together. OA often attacks the first metatarsophalangeal joint (at the base of the big toe). A variety of symptoms may occur including pain, swelling, and limited mobility. The body may respond by creating more bone which can develop into bone spurs that cause visible bumps, calluses, or a bunion in the big toe. In time, the pain can become more of a burning sensation and stiffness may set in to the point where the big toe becomes fixed (hallux rigidus) and unbendable. Age can be a contributing factor to OA, as well as prior injuries, obesity, and a genetic predisposition to the disease. Losing weight, taking anti-inflammatories, and icing the area may provide some relief from OA in the big toe. A podiatrist can provide orthotics, braces or splints, recommend proper shoes, suggest specific exercises and even use injectable corticosteroids to relieve pain and reduce swelling. In some cases, surgery may be necessary to remove deteriorated cartilage or repair/replace a severely damaged joint. Contact a podiatrist if you believe OA is causing pain and swelling in your big toe joint. 
Arthritis can be a difficult condition to live with. If you are seeking treatment, contact one of our podiatrists from Southwest Podiatry. Our doctors can provide the care you need to keep you pain-free and on your feet.
Arthritic Foot Care  
Arthritis is a term that is commonly used to describe joint pain.  The condition itself can occur to anyone of any age, race, or gender, and there are over 100 types of it.  Nevertheless, arthritis is more commonly found in women compared to men, and it is also more prevalent in those who are overweight. The causes of arthritis vary depending on which type of arthritis you have. Osteoarthritis for example, is often caused by injury, while rheumatoid arthritis is caused by a misdirected immune system.
Symptoms
Swelling
Pain
Stiffness
Decreased Range of Motion
Arthritic symptoms range in severity, and they may come and go. Some symptoms stay the same for several years but could potentially get worse with time. Severe cases of arthritis can prevent its sufferers from performing daily activities and make walking difficult.
Risk Factors
Occupation – Occupations requiring repetitive knee movements have been linked to osteoarthritis
Obesity – Excess weight can contribute to osteoarthritis development
Infection – Microbial agents can infect the joints and trigger arthritis
Joint Injuries – Damage to joints may lead to osteoarthritis
Age – Risk increases with age
Gender –Most types are more common in women
Genetics – Arthritis can be hereditary
If you suspect your arthritis is affecting your feet, it is crucial that you see a podiatrist immediately. Your doctor will be able to address your specific case and help you decide which treatment method is best for you.
If you have any questions, please feel free to contact our offices located in Dallas, Carrollton, and Irving, TX . We offer the newest diagnostic and treatment technologies for all your foot care needs.
Read more about How to Care for Your Arthritic Foot